Yes folks, John Terry's gone. Now, don't get your hopes up, he's just retired from international duty. Or, if you're a fan of cheap jokes, perhaps he just thought he overheard Anton Ferdinand say it and sarcastically repeated it.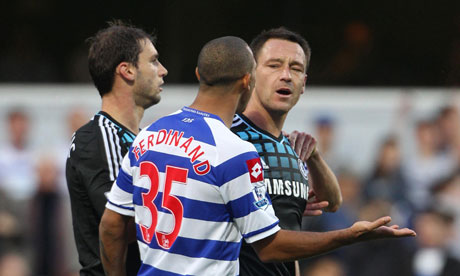 Sadly, we'll never know what was really/allegedly said here.
Shockingly, this announcement has led to a not inconsiderable amount of uproar and controversy. Seriously, it's like you people save up all your anger and outrage for John Terry news items. Don't you have anything better to do?
First, for those of you living under a rock but still equipped with a selective internet connection that makes this the only website you can access that allows any mention of football, John Terry has retired from the England squad less than 24 hours before he went in front of an FA hearing into his alleged racial abuse of Anton Ferdinand.
Quoth the JT: I feel the FA, in pursuing charges against me where I have already been cleared in a court of law, have made my position with the national team untenable.
I hate to play Devil's Advocate, but he does have an extremely good point here. Terry has been cleared of racial abuse in a court of law. Legally, John Terry is not a racist and thus, surely, the FA is on extremely shaky legal ground by, effectively, suggesting that he is. It can't be too much of a stretch for him to reasonably be able to sue them for slander.
Equally, by putting these charges against him, the FA have, somehow, managed to give Terry the moral high ground in the situation. Or at least, that's how it seems. Even the press release comes across as rather "woe is me, everyone's against me" in a manner not dissimilar to
Luis Suarez' response to him being booed at the Olympics.
But, fishing for sympathy or not, it remains that the FA has given John Terry a chance to play the persecuted victim.
The cynics would point to the timing of the announcement and say that Terry has probably been tipped off that he won't win this FA case, and that he might as well jump before he's pushed, perhaps try to spin it as showing humility and willingness to accept that he's wrong. This is probably true, but again, it's only a position that the FA has allowed by having this joke of a retrial in the first place.
The main issue, however, is that England will be without a man who has captained them 34 times. Through that time, for all his arguable off-field failings, he has performed to a generally high standard, especially when compared to other marquee players such as Rooney, Lampard and Gerrard.
But over all that, and certainly the latter part of his captaincy, has hung the spectre of controversy, something which good old JT has become something of a lightning rod for. The first real issue, which overshadowed England's dismal World Cup 2010 to some extent, was the extramarital affair with Vanessa Perroncel, Wayne Bridge's then-recently ex-girlfriend.
That led to
Bridge resigning from the England squad
, and the widespread (and fairly justified) belief that if anyone should have to step down, it was Terry. But as captain, he was effectively untouchable, particularly under Fabio Capello. Did this scandal result in England's piss-poor World Cup 2010? Probably not, and in the end it proved a welcome distraction, but a distraction nontheless.
It was probably that episode that made it easier to vilify Terry over the Anton Ferdinand issue. Anton might have quit the England team too, I'm not sure, largely because he never had a look in, anyway. What did happen was the FA sticking their nose in and stripping Terry of the captaincy. Again.
This then led to Capello leaving the England manager's position. Some would call that a blessing, but once again, an issue surrounding John Terry has had a detrimental effect on the England team, more so than his club. And, it could be argued, once again it was the FA's meddling that caused it. And argue it I shall.
You see, both times (after the Bridge affair and Ferdinand charge) it was the FA, rather than Capello, that stepped in to remove the armband. This in no small part led to Capello feeling undermined to the point of
leaving the position
. And it could have been avoided had they kept their collective noses out.
Now, I'm not saying that Terry is innocent, far from it. Nor am I saying he should stay in the England team, much less remain the England captain. But if the FA leaves the decision of who to name as captain up to the manager, surely they should leave stripping the captaincy up to the same man. Capello would have felt a huge pressure to take the armband off Terry anyway, in some form or other, but instead again the FA stepped in and left, in this case, both Terry and Capello feeling victimised. Compare England's turmoil with the calmness with which Chelsea have gone about their business in the same time period, and you can see the direct effect the Football Association's meddling has caused.
Whatever you think of Terry as a person, it's hard to deny that he's a bloody good footballer. It's part of what makes him so easy to despise, in the same way as Cristiano Ronaldo is easier to hate when you wish you had half the skill he possesses. There's arguments for Lescott, Jagielka etc. to step up, but none of them have really looked as solid in an England shirt as Terry has over the years. He's popped up with a few important goals and last-ditch saves too, including the off-the-line-or-slightly-behind-it against Ukraine at Euro 2012. Not to mention the number of times when, as captain, he's been seen clapping his hands together trying to gee up his teammates as a good captain should.
Like him or not, and like it or not, Terry has been a good captain and invaluable presence in the England setup. And, in my humble opinion as a faceless voice on the internet, he still had something to give. No doubt his retirement from international duty will prolong his Chelsea career for a season longer than if he'd kept on, but that won't have been anywhere near the front of his mind when the decision was made.
The decision was to save what's left of his tattered reputation, and also to allow him to play the victim while sticking two fingers up at the FA by pre-empting their most likely punishment should he be found guilty. And while it was Terry who instigated all of the issues surrounding him, I'd like to go on record and say that the FA has exacerbated the effect of every single one.